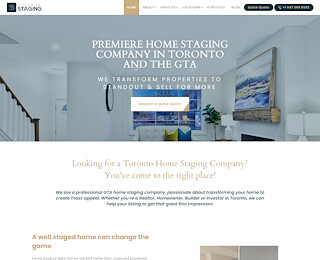 Do you find new home rearrangements to be invigorating and refreshing? You may want to stage your home for a more professional look, such as when hosting an event, preparing to sell the home and other similar cases. Staging a home involves landscaping, organizing furniture, and rearranging the decor for a more refined look.
Why Do People Stage Homes?
Staging the home involves removing the details and features that do not matter to replace them with ones that are more impressive to the occupants. Potential buyers want to see the home as a possible living space where they can make their haven. The main goal of hiring a professional or house staging company in Toronto is to capitalize on their knowledge and expertise so you have an opportunity of making a great impression.
Many people make the mistake of trying to sell a home without staging it because they assume that the new owners will look at the current setup as the expected norm of any other home. Cleaning the home is a great start to having a good home, but ensuring it has the perfect ambiance, scent and lighting will convince potential buyers it is worth more.
Home staging can be anything from painting the walls, replacing the fixtures, and switching to new lighting so that the brightness is natural and flattering at night and during the day. The appearance of a home depends on many different things, and you must get it right the first time to maximize your profitability.
Things You Get When You Hire A Professional Home Staging Company
Exquisite Cleanliness
Do you ever wonder whether you are doing a great job at cleaning the home's entirety? A professional home staging company cleans a home more thoroughly because they intend to make everything look and feel new. Homebuyers will be disgusted by a kitchen with grime under the sink, dirty paint, and other negative features that you easily dismiss after staying in the home for too long. We have a more thorough cleaning process where we look at every crook and cranny and remove all negative features that could affect the resale value and process.
Rearrange The Space
The furniture tends to be the focal point of any room in the home, and you do not want to cramp the space with unnecessary clutter or ones that do not coordinate to showcase a more cohesive style. Exotic furniture will look great when you declutter the room and add pieces that complement its design, but it can also look highly tacky if you have too many contrasting pieces in the area.
Why Choose Our Top-Rated House Stagers?
Each one of our team members has formal training and education in marketing real estate property. We use the best home staging services that reflect your sense of style and add a dash of professional appeal to appease the broad demographic.
Home staging should be handled by a professional who takes their work seriously and has trade associations and certifications for their knowledge. Contact our home staging experts to learn more about our luxury home staging options.