Are you planning to store your possessions in a storage unit? You'll need to pack them correctly to ensure they remain in good condition. It is also essential to utilizing storage space efficiently to get the maximum value for your dollar. In this article, our experts from Abreu Movers will go over the best ways to store items in storage devices or units using the proper method. We'll discuss topics such as how to wrap and pack things, use the space, and keep your storage space tidy.
What is a storage unit?
A storage unit is a container, often made of metal or wood, for storing goods. Storage units come in all shapes and sizes, from small lockers to large warehouses. There are a variety of storage units, each with its own advantages and disadvantages.
The most common type of storage unit is the self-storage unit. Self-storage units are rented by the month, and they can be found in nearly every town and city. These units are convenient because they are usually located near major highways, making them easy to access.
Why is storage important?
Each needs to be organized to function efficiently, whether it's a school, office, hospital, institute, or even your own house. Storage resources would be helpful not just in ensuring efficiency but also keep your things safe for long-term storage.
Storage systems are essential to keep everything neatly organized and stacked to prevent losing or damaging them. Because time is crucial, the most excellent care of the proper storage of important documents, files, and other things is ideal to avoid delays.
Resorting to the aid of a storage facility from a reliable storage company, such as the Abreu Movers, will give you a wide variety of benefits. Since they have professional teams at their disposal, every client is assured that their storage units are well organized and their things in it safe all throughout the duration of storing.
How To Store Your Things In A Storage Unit?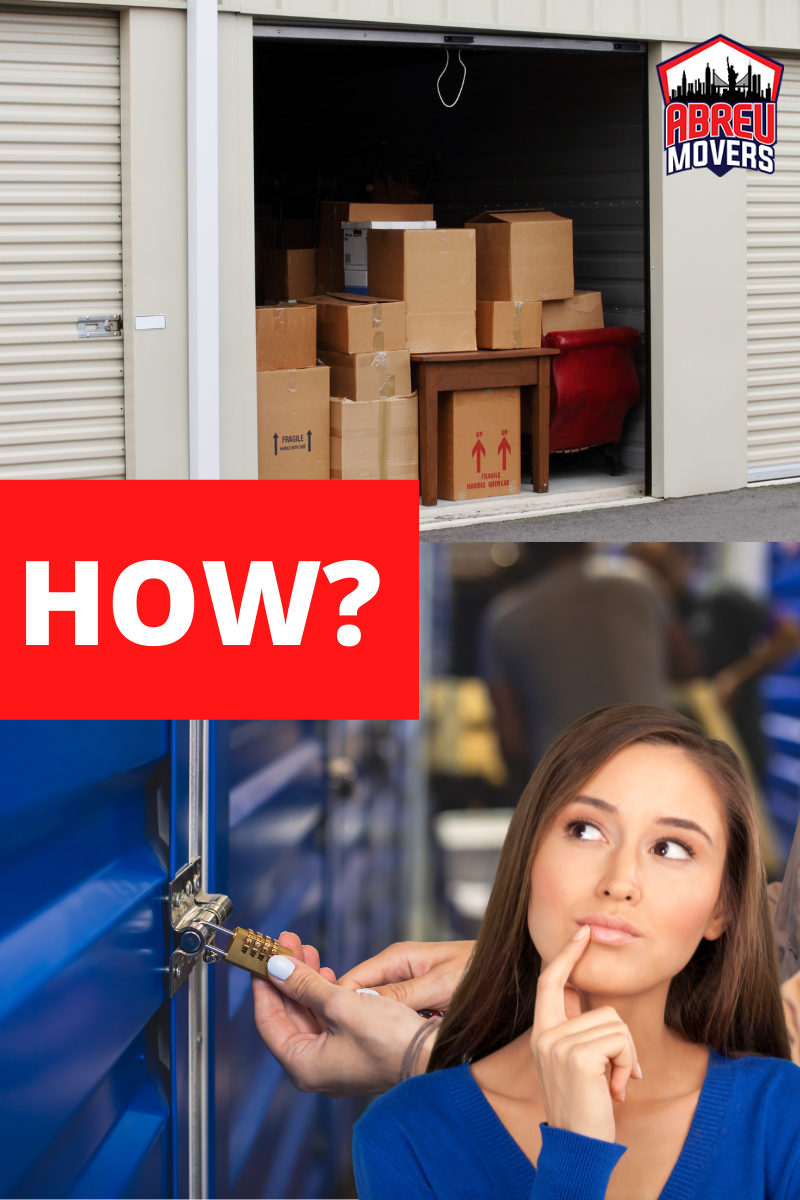 1. Have Time To Clean Your Belongings Before Storing Them
Fragile items, heavy items, furniture, or kitchen items that don't have regular use may bring bugs, mold, and other foreign matter to a storage unit, thus, may also leave items unprotected. In time, these tiny storage invaders can create significant issues. Cleaning your possessions and storage unit before storing could help substantially. After receiving your storage unit, offer your items (especially furniture objects) the benefit of a thorough cleaning before bringing them to storage.
2. Make Sure You Have All The Packing Materials And Use Uniform Box Sizes
As a storage strategy, ensure that the packing process runs as smoothly as you can begin by gathering the proper packing materials. It is the most critical stage of any storage process. Materials that cushion your items, like bubble wrap, packing paper, packing peanuts, and newspaper, are vital to ensure that fragile or expensive items remain in good condition throughout transportation and even stored. Other things, such as small items, may need a suitable container that would make them easily be identified and will make those items accessible.
Further, it is ideal that you stack boxes to save space. Packing boxes such as Cardboard boxes can also be a good choice. They are made from paper pulp and are recyclable. They are also relatively inexpensive, making them a popular choice for packaging. In stacking, it is advisable that you put the heaviest boxes at the bottom and then place lighter or smaller boxes on the top.
3. Make A List Of Your Items
Another good storage strategy is by creating a list of items. Before you put your items in boxes and give them a thorough clean, make an inventory of everything you intend to store. This will allow you to monitor everything when you start the packing and storage process. So, you don't need to scurry through your house or storage space in search of an item that's gone missing. Make use of a spreadsheet or a classic clipboard to take inventory of all the things you're keeping before starting the packing and storage process. This way, you'll have complete control of the items being stored.
4. Label Your Boxes And Pack Them Categorically
When it comes to inventorying your belongings before packing, it's crucial for you to mark your containers and sort them out before filling them. To "pack categorically" is to categorize your belongings based on characteristics like size, function, and fragility before placing them in boxes. For instance, it could be beneficial to pack all your kitchen equipment into one container. Ensure not to put excessive weight on fragile things like your expensive figurine. Instead, try cushioning your items with dishtowels or placemats and other soft things. Being clear-headed will help keep your belongings in excellent condition and save you time packing and sorting in the future. A mark in all boxes that contains fragile items should also be indicated to help you easily identify boxes that need utmost care among other items.
5. If You Are Unsure, Ask For Assistance
The process of packing your possessions and then transferring them to storage isn't the most straightforward task to tackle on your own. When you're dealing in the case of valuables or heavy objects, or a massive load of possessions, It's an excellent idea to seek help during this storage phase. Trustworthy storage firms like the ones we have at Bronx, New York, can guide you to suitable packing materials and offer general advice on storing your belongings and space. We can also point you in the right direction to select the right moving company to lift those large furniture pieces and heavy objects such as Abreau Movers. You should always seek assistance when moving, packing, and storage procedures if you are unsure. Don't be afraid of asking for help as you could end up with damaged items or, worse, an injury that you didn't want to suffer.
6. Make Sure You Have The Proper Containers For Storage
One of the best self-storage strategies is to acquire the best storage equipment to store your possessions. You can put things in boxes, bags, and bags; however, it's usually more beneficial to keep them in containers designed specifically for the task.
The new cardboard storage boxes are economical and suitable enough to store non-perishable goods such as toys made of plastic or stainless steel kitchen appliances. But boxes made of plastic with sealable lids are more durable, easy to stack, and hopefully keep moisture out.
Additionally, a wide range of sizes are available, and some are highly robust and have handles to make transporting them easy. Additionally, You can purchase special boxes for items such as mirrors and clothing. There are also "dishpaks" for glassware and crockery.
7. Be Aware When You Stack And Pack Your Items
Keep your storage unit organized. Stacking and packing your items isn't a simple game of Tetris. It's a disaster just waiting to take place.
You'll need to maximize the use of the space you have, not to pay more than you're required to do. Therefore, remember that, even if your storage area isn't large, It's likely to be 8 feet high, which means you can stack things, provided you're cautious.
Certain types of furniture can be taken apart to free up space. Mirrors and large kitchen appliances should be stored in upright positions.
In the case of damaged footwear, it should be filled with crumpled paper. Porcelain and glassware should be protected with bubble wrap. The most expensive dresses should be hung on the wall; if your closet is also stored in self-storage, it is possible to hang them up in the storage unit.
8. Security In A Storage Facility
Self-storage facilities are most often equipped with advanced security systems for entry and exit, surveillance cameras, and perhaps personnel on the building. Infrared detectors and biometric scanners inside the units are more sophisticated security methods that are occasionally used.
There are more traditional facilities outside of town that do not have the security features of their inner-city counterparts. However, they might offer an affordable price, and you may prefer this.
Certain establishments have their locks installed on their units, while others require you to bring your locks. In this case, it is suggested to invest in an excellent safety lock that you can carry with you when renting.
9. Avoid Mold Growth From The Storage Unit
The humidity inside your home should range between 30 to 50 percent. This is an excellent range to stop mildew and mold from forming. If you go beyond this limit, it can lead to problems. It is the same with storage systems. When moisture accumulates within your storage unit, everything inside can be harmed. Growth of mildew, mold and rust are all likely to grow. Such a scenario could be hazardous for storing items and other objects with personal importance. For instance, mold could damage photos, clothing, leather, wood, and electronic devices. So, preventing the growth of mold in storage units is crucial!
A climate-controlled storage unit will also help to keep your belongings in good condition while you are away. Further, it will protect them from the elements and pests. If you have valuable items that you need to store for a long period of time, a climate-controlled unit is the best option.
Other Tips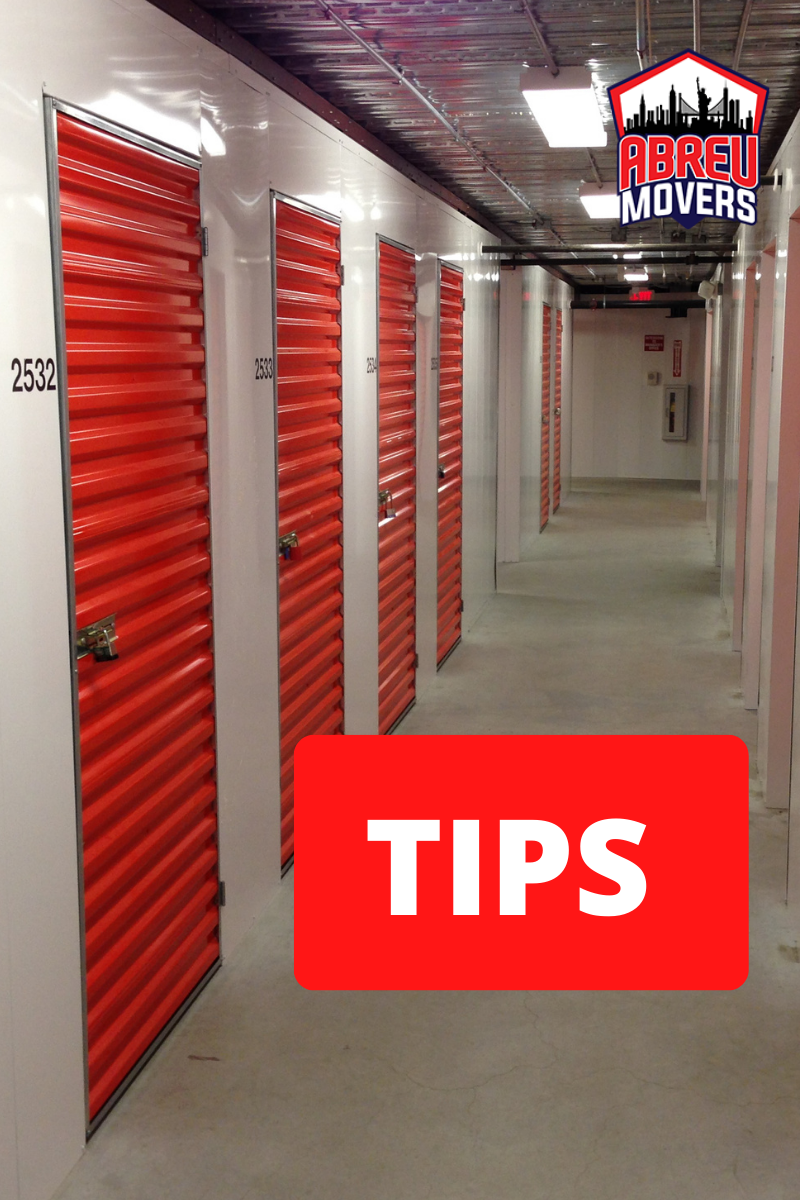 Consider your budget
Storage fees vary from place to place. Some places charge per month or per year while some charge based on usage. Either way, think about your needs first before looking into a specific location.
Check for vacancies
Every facility has a certain number of spaces available. Make sure that there aren't any openings if possible so that you don't incur any additional charges.
Avoid Peak Demand
On days when a storage unit is in high demand, it's important to be aware of a few things. First, a storage unit may fill up quickly. If you're not able to find a unit right away, don't worry; there are usually other units available nearby. Second, prices for a storage unit may be higher on peak demand days.
Conclusion
The next time you're thinking about how to store things, think twice. Find out what's appropriate for you and what sort of storage facility best suits your needs. Be sure you're getting exactly the right level of protection, and make sure there aren't any areas where mold or moisture may form. When you stored your belongings properly, you'll be surprised how much space you could have in your storage unit.
It's just a matter of finding the one that works for you. As always, don't hesitate to contact Abreu Movers at our website (www.abreumovers.com) or by calling us today at 347-427-5228. Abreu Movers is located at 880 Thieriot Ave, Bronx, NY 10473. Aside from Bronx, we are also available in NYC, Brooklyn, Queens, and Westchester.
{ "@context":"https://schema.org", "@type":"WebPage", "headline":"How To Store Things In A Storage Unit?", "url":"https://abreumovers.com/how-to-store-things-in-a-storage-unit/", "about":
[{"@type": "thing", "name": "storage unit", "sameAs": ["http://en.wikipedia.org/wiki/Self_storage", "https://www.google.com/search?q=storage+unit&kgmid=/m/07xn3v"]}, {"@type": "thing", "name": "furniture", "sameAs": ["http://en.wikipedia.org/wiki/Furniture", "https://www.google.com/search?q=furniture&kgmid=/m/0c_jw"]}, {"@type": "thing", "name": "self storage", "sameAs": ["http://en.wikipedia.org/wiki/Self_storage", "https://www.google.com/search?q=self+storage&kgmid=/m/07xn3v"]}, {"@type": "thing", "name": "clothes", "sameAs": ["http://en.wikipedia.org/wiki/Clothing", "https://www.google.com/search?q=clothes&kgmid=/m/09j2d"]}, {"@type": "thing", "name": "inventory", "sameAs": ["http://en.wikipedia.org/wiki/Inventory", "https://www.google.com/search?q=inventory&kgmid=/m/018y_6"]}, {"@type": "thing", "name": "plastic", "sameAs": ["http://en.wikipedia.org/wiki/Plastic", "https://www.google.com/search?q=plastic&kgmid=/m/0ztj4d6"]}, {"@type": "thing", "name": "dust", "sameAs": ["http://en.wikipedia.org/wiki/Dust", "https://www.google.com/search?q=dust&kgmid=/m/015l_t"]}, {"@type": "thing", "name": "appliances", "sameAs": ["http://en.wikipedia.org/wiki/Home_appliance", "https://www.google.com/search?q=appliances&kgmid=/m/019dx1"]}, {"@type": "thing", "name": "electronics", "sameAs": ["http://en.wikipedia.org/wiki/Electronics", "https://www.google.com/search?q=electronics&kgmid=/m/02mrp"]}, {"@type": "thing", "name": "moisture", "sameAs": ["http://en.wikipedia.org/wiki/Moisture", "https://www.google.com/search?q=moisture&kgmid=/m/02t59k"]}, {"@type": "thing", "name": "mattress", "sameAs": ["http://en.wikipedia.org/wiki/Mattress", "https://www.google.com/search?q=mattress&kgmid=/m/03dg8j"]}, {"@type": "thing", "name": "mold", "sameAs": ["http://en.wikipedia.org/wiki/Mold", "https://www.google.com/search?q=mold&kgmid=/m/0dkxm"]}, {"@type": "thing", "name": "climate-controlled", "sameAs": ["http://en.wikipedia.org/wiki/Heating,_ventilation,_and_air_conditioning", "https://www.google.com/search?q=climate-controlled&kgmid=/m/0fqzp"]}, {"@type": "thing", "name": "mind", "sameAs": ["http://en.wikipedia.org/wiki/Mind", "https://www.google.com/search?q=mind&kgmid=/m/04xdv"]}, {"@type": "thing", "name": "leather", "sameAs": ["http://en.wikipedia.org/wiki/Leather", "https://www.google.com/search?q=leather&kgmid=/m/04lbp"]}, {"@type": "thing", "name": "blankets", "sameAs": ["http://en.wikipedia.org/wiki/Blanket", "https://www.google.com/search?q=blankets&kgmid=/m/03mcpy"]}, {"@type": "thing", "name": "bubble wrap", "sameAs": ["http://en.wikipedia.org/wiki/Bubble_wrap", "https://www.google.com/search?q=bubble+wrap&kgmid=/m/0mdb8"]}, {"@type": "thing", "name": "mildew", "sameAs": ["http://en.wikipedia.org/wiki/Mildew", "https://www.google.com/search?q=mildew&kgmid=/m/021t6j"]}, {"@type": "thing", "name": "space", "sameAs": ["http://en.wikipedia.org/wiki/Space", "https://www.google.com/search?q=space&kgmid=/m/06wqb"]}, {"@type": "thing", "name": "insurance", "sameAs": ["http://en.wikipedia.org/wiki/Insurance", "https://www.google.com/search?q=insurance&kgmid=/m/03xks"]}, {"@type": "thing", "name": "kitchen", "sameAs": ["http://en.wikipedia.org/wiki/Kitchen", "https://www.google.com/search?q=kitchen&kgmid=/m/0d4wf"]}, {"@type": "thing", "name": "dirt", "sameAs": ["http://en.wikipedia.org/wiki/Soil", "https://www.google.com/search?q=dirt&kgmid=/m/09dv7"]}, {"@type": "thing", "name": "clothing", "sameAs": ["http://en.wikipedia.org/wiki/Clothing", "https://www.google.com/search?q=clothing&kgmid=/m/09j2d"]}, {"@type": "thing", "name": "map", "sameAs": ["http://en.wikipedia.org/wiki/Map", "https://www.google.com/search?q=map&kgmid=/m/04_tb"]}, {"@type": "thing", "name": "drawers", "sameAs": ["http://en.wikipedia.org/wiki/Drawer", "https://www.google.com/search?q=drawers&kgmid=/m/0fqfqc"]}, {"@type": "thing", "name": "stack", "sameAs": ["http://en.wikipedia.org/wiki/Stack_(abstract_data_type)", "https://www.google.com/search?q=stack&kgmid=/m/01p2sd"]}],
"mentions":
[{"@type": "thing", "name": "homeowners", "sameAs": ["http://en.wikipedia.org/wiki/Home_insurance", "https://www.google.com/search?q=homeowners&kgmid=/m/0313mp"]}, {"@type": "thing", "name": "washing machines", "sameAs": ["http://en.wikipedia.org/wiki/Washing_machine", "https://www.google.com/search?q=washing+machines&kgmid=/m/0174k2"]}, {"@type": "thing", "name": "wood finishes", "sameAs": ["http://en.wikipedia.org/wiki/Wood_finishing", "https://www.google.com/search?q=wood+finishes&kgmid=/m/0808v2"]}, {"@type": "thing", "name": "mattress", "sameAs": ["http://en.wikipedia.org/wiki/Mattress", "https://www.google.com/search?q=mattress&kgmid=/m/03dg8j"]}, {"@type": "thing", "name": "self-storage", "sameAs": ["http://en.wikipedia.org/wiki/Self_storage", "https://www.google.com/search?q=self-storage&kgmid=/m/07xn3v"]}, {"@type": "thing", "name": "storage lockers", "sameAs": ["http://en.wikipedia.org/wiki/Self_storage", "https://www.google.com/search?q=storage+lockers&kgmid=/m/07xn3v"]}, {"@type": "thing", "name": "self-storage units", "sameAs": ["http://en.wikipedia.org/wiki/Self_storage", "https://www.google.com/search?q=self-storage+units&kgmid=/m/07xn3v"]}, {"@type": "thing", "name": "dryers", "sameAs": ["http://en.wikipedia.org/wiki/Clothes_dryer", "https://www.google.com/search?q=dryers&kgmid=/m/01v2xz"]}, {"@type": "thing", "name": "fridges", "sameAs": ["http://en.wikipedia.org/wiki/Refrigerator", "https://www.google.com/search?q=fridges&kgmid=/m/040b_t"]}, {"@type": "thing", "name": "bedding", "sameAs": ["http://en.wikipedia.org/wiki/Bedding", "https://www.google.com/search?q=bedding&kgmid=/m/03mcr3"]}, {"@type": "thing", "name": "pallets", "sameAs": ["http://en.wikipedia.org/wiki/Pallet", "https://www.google.com/search?q=pallets&kgmid=/m/03k138"]}, {"@type": "thing", "name": "washers", "sameAs": ["http://en.wikipedia.org/wiki/Washing_machine", "https://www.google.com/search?q=washers&kgmid=/m/0174k2"]}, {"@type": "thing", "name": "mothballs", "sameAs": ["http://en.wikipedia.org/wiki/Mothball", "https://www.google.com/search?q=mothballs&kgmid=/m/01jz_d"]}, {"@type": "thing", "name": "lockers", "sameAs": ["http://en.wikipedia.org/wiki/Locker", "https://www.google.com/search?q=lockers&kgmid=/m/03cxnw7"]}, {"@type": "thing", "name": "garments", "sameAs": ["http://en.wikipedia.org/wiki/Clothing", "https://www.google.com/search?q=garments&kgmid=/m/09j2d"]}, {"@type": "thing", "name": "dresses", "sameAs": ["http://en.wikipedia.org/wiki/Clothing", "https://www.google.com/search?q=dresses&kgmid=/m/09j2d"]}, {"@type": "thing", "name": "bed", "sameAs": ["http://en.wikipedia.org/wiki/Bed", "https://www.google.com/search?q=bed&kgmid=/m/03ssj5"]}, {"@type": "thing", "name": "freezers", "sameAs": ["http://en.wikipedia.org/wiki/Refrigerator", "https://www.google.com/search?q=freezers&kgmid=/m/040b_t"]}, {"@type": "thing", "name": "dishwashers", "sameAs": ["http://en.wikipedia.org/wiki/Dishwasher", "https://www.google.com/search?q=dishwashers&kgmid=/m/0ky7b"]}, {"@type": "thing", "name": "cushioning", "sameAs": ["http://en.wikipedia.org/wiki/Package_cushioning", "https://www.google.com/search?q=cushioning&kgmid=/m/02psg3s"]}, {"@type": "thing", "name": "rusting", "sameAs": ["http://en.wikipedia.org/wiki/Rust", "https://www.google.com/search?q=rusting&kgmid=/m/06lml"]}, {"@type": "thing", "name": "refrigerator", "sameAs": ["http://en.wikipedia.org/wiki/Refrigerator", "https://www.google.com/search?q=refrigerator&kgmid=/m/040b_t"]}] }